Doctors & Staff
Meet the experienced and friendly doctors and staff who make Eyes On Broad a proud provider of vision care products and services in Mansfield.
---
Ben Colston, O.D.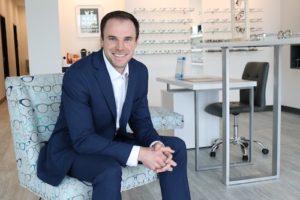 Dr. Ben Colston was raised in Arlington, Texas. He and his wife, Crystal both graduated from Pantego Christian Academy. He earned a Bachelor's degree in Biology from the University of Texas at Arlington and his Doctorate of Optometry from the University of the Incarnate Word Rosenberg School of Optometry in San Antonio, Texas.
After his optometric education, he completed his clinical rotations at the Bob Michael Veterans Affairs Hospital in Illinois, the Bond-Wroten Eye Clinic in Louisiana, the lighthouse for the blind and the Bowden Eye Institute in San Antonio, Texas. He is licensed as a Therapeutic Optometrist and Optometric Glaucoma Specialist. He is also an active member of both the American Optometric Association and the Texas Optometric Association. Before opening Eyes on Broad, Dr. Colston practiced at two private practices in North Dallas and in Southlake, Texas.
He enjoys going on medical mission trips and has provided eye care to patients in Guatemala and the Island of St. Vincent. He likes reading, playing golf, and a good cheeseburger.
---
Clara Le, O.D.
After completing her Bachelor of Science with a concentration in Biology, Microbiology and Chemistry locally at the University of Texas at Arlington moved to Houston to earn her Doctorate in Optometry in 2012. Completing her doctorate from University of Houston College of Optometry, she went on to pursue an Ocular Disease Residency at Huntington Veteran Affairs Medical Center from which she worked with a team of 6 mentors to diagnose, treat and manage ocular pathology amongst our veterans.
Dr. Le enjoys taking time to get to know her patients and her patient's professions to better understand their visual needs. She enjoys diagnosing ocular disease and educating patients of their eye conditions.
On her free time, Dr. Le spends her time volunteering at a Vietnamese community to teach children music and worship through music. Dr. Le is passionate out youth outreach and giving back to the community.
---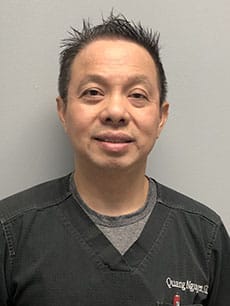 Quang Nguyen, O.D.
Dr. Quang Nguyen immigrated to the United States at the age of seven and grew up in Houston, TX. He graduated from Alief Elsik High School. He earned a Bachelor degree in Biology from Baylor University in Waco, TX. He then received his Doctor of Optometry degree from The University of Houston College of Optometry in 2000.He completed his clinical rotation at Family Eyecare Center in Campbell, CA and at Texan Eyecare in Austin, TX. Dr. Nguyen is a license Therapeutic Optometrist and Optometric Glaucoma Specialist. He is a member of the Tarrant County Optometric Society.
Before joining Eyes On Broad, Dr. Nguyen was an owner of Infinity Eyecare with over twenty years of experience. During his free time, He is active with his three children. He is a practicing member of The Vien An Buddhist Temple. He enjoys keeping up with his 'H-Town' sports team and occasional golf outings. Dr. Nguyen volunteers his time to providing eyecare to local Buddhist temple members.
---
Staff
---
Brianna Cottle, CPO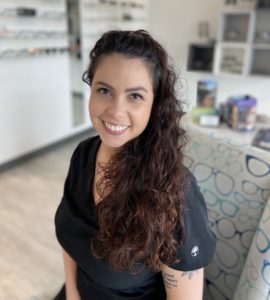 Brianna was the very first employee at Eyes on Broad. In addition to her years of experience working in the optical industry, she worked for several years as a barista at Starbucks. Her natural gift for talking to people makes her fantastic at helping you find the perfect pair of glasses. She works in the optical, does pre-testing before you see the doctor and helps with the front desk. Brianna is a board-certified paraoptometric.
When she is not working she loves spending time with her Fiancé, Blake and their dogs.
---
Lizbeth Galvan, CPO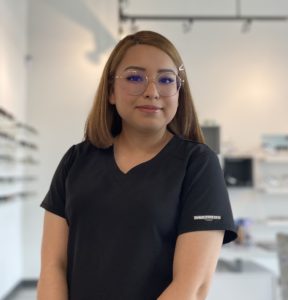 Lizbeth grew up in Dallas and has been in the eyecare industry since 2018. She is fluent in Spanish and English and does a great job at helping you feel comfortable trying on new glasses. Lizbeth is also a board-certified paraoptometric and can be spotted at the front desk or working up patients for Dr. Colston. She graduated from South Grand Prairie High School and has an Associate's Degree from Mountain View College.
In her free time, she enjoys spending time with her boyfriend Alex, shopping with friends, and watching anime.
---
Debra Billotto
Debra is from Mitchell, South Dakota! She has 24 years of experience in the optical industry. She makes
Shopping for glasses so much fun! She also does pre-testing and front desk work. She has 5 kids and 5 grandkids.
In her free time, she likes to be in the sun by the water or sitting by a fire pit with family and friends.
---
Joanne Mai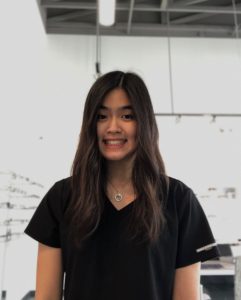 Joanne grew up in Mansfield and graduated from Lake Ridge High School in 2018. She is a pre-optometry student majoring in biology at the University of Texas at Arlington. Joanne joined the Eyes on Broad family in October of 2019. She scribes for Dr. Colston and helps at the front desk. In her free time, she enjoys swimming, spending time with her family and catching up on the latest Netflix show!